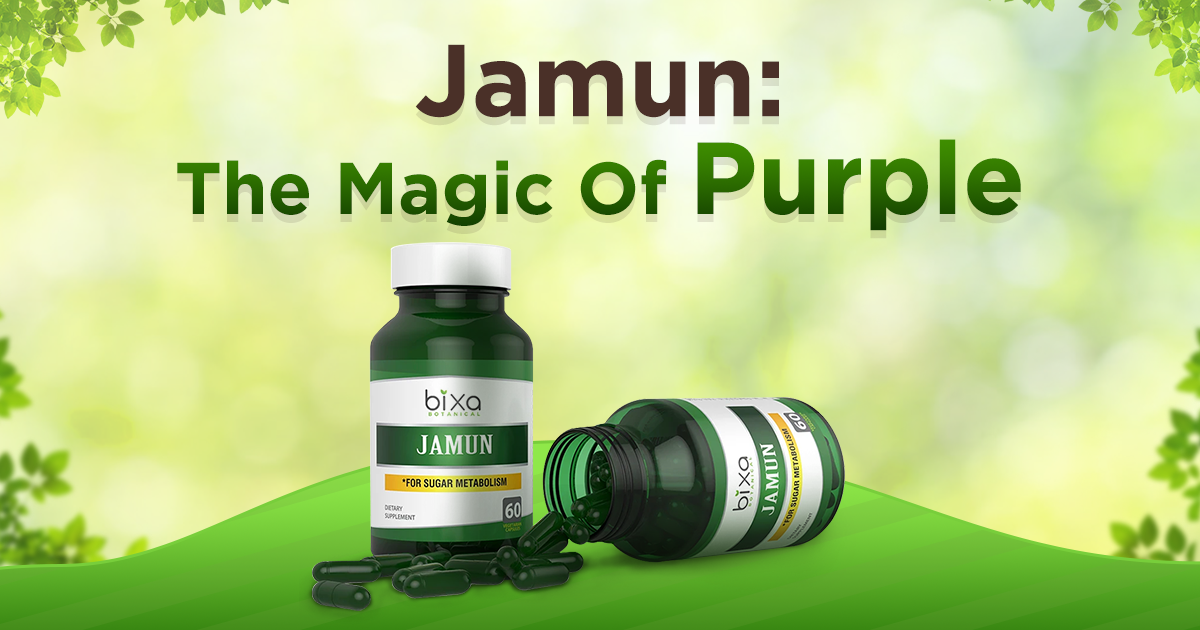 0 Comment(s)
/
by Accounts Bixa
The juicy, purple pearl that we commonly know as Jamun fruit in India is a treasure trove of nutritional and medicinal properties despite its bite-size. It is also called jambul, jambas, black plums and java plum across different regions of India and other countries where it is cultivated or consumed.
The Jamun tree often bears fruits in May and June months, due to which it is widely available during summer and monsoon seasons. It derives its dark purple/black skin due to the presence of anthocyanins in its skin. Surprisingly, Jamun changes its colour from green to red when it grows on the tree and then gains its blackish-purple colour only on maturity!
Health Benefits of Jamun
Anthocyanins in Jamun have antioxidant effects. Jamun is also a rich source of Vitamins A and C, zinc, iron, potassium, folic acid and several other minerals. As per Ayurveda, Jamun is very effective in balancing Kapha and Pitta dosha.
Some of the Ayurvedic treatments for which Jamun is highly recommended are:
- Digestive disorders
- Menstrual and gynaecological disorders
- Respiratory disorders
- Digestive disorders
- Cardiovascular disorders
- Increase haemoglobin count
- Improve skin health
- Enhance immunity
Jamun and Diabetes
Another and most important health benefit that is associated with Jamun is diabetes control because it has hypoglycemic effects.
- It has a low glycaemic index which is useful in maintaining normal blood sugar levels. 
- It treats other diabetes symptoms such as dehydration and frequent urination. 
- It contains polyphenols which reduce high blood sugar. 
- It has alkaloids which convert starch into energy to control blood sugar.
Consumption of Jamun 
Being a fruit, Jamun should ideally be consumed in its raw and natural form. You can eat the flesh and discard the seed. Some people also relish Jamun through juices, preserves, jellies, squashes, wine and other recipes. However, these forms of consumption are often laden with sugar and other ingredients, which could be detrimental to health. Hence, make sure that in whatever way you consume Jamun, it should retain its natural properties and benefits.
As far as diabetes is concerned, even Jamun seeds, barks and leaves are useful for treatment as per Ayurveda. If for some reason, you are unable to source Jamun fruit, natural dietary supplements that use Jamun extract to control sugar metabolism are the best alternative. You should look for dietary supplements that are vegan, gluten-free, non-GMO and lab-tested for quality. 
Most Jamun extract-based dietary supplements are available in the form of capsules. These capsules can be taken as it is with a glass of water as recommended by your medical practitioner. You can even add it to a smoothie or sprinkle over a bowl of fresh salad.
Jamun is considered a miracle fruit in both Ayurveda and modern science. You must include it in your diet for long-term health benefits, especially if you have diabetes.
Also Read: Improve Sleep Quality By Using A Natural Nervine Sedative